RTA School of Media at Ryerson University
Date: August 2020 - Current Day
Position: Communications and Events Assistant 

Position duties: During my contract employment with the RTA School of Media under FCAD at Ryerson University, I assist the Communications and Events Coordinator with tasks relating to email marketing, virtual event planning, newsletter creation and distribution, internal and external communications, website editing, and various other tasks. I helped to create a new social strategy to revamp our social media presence, created a set of guidelines for general communications dos and don'ts, assisted with recruitment strategies, alumni outreach, paid advertising for program recruitment, and oversaw the work of student Instagram Coordinators for the RTA Media Production program.
Achievements: When I first started with RTA, I brought forward the idea of revamping our social media presence. We had platforms that weren't getting enough love in promoting events, alumni, student work, and other initiatives within the Faculty of Communication and Design. Since I started in August of 2021, our impressions and engagements have doubled from before my employment, and we are being mentioned in an increased amount of posts from not just students and alumni, but industry partners as well, with a steady increase in followers. 
I also started up an instagram page for the Media Production program to boost recruitment along with paid advertising for both Media Production and New Media programs. Three weeks into the launch of our account, we hired on two Media Production student volunteers who I am in charge of overseeing, providing guidance to, approving posts, and assigning work to. Since the launch in January, the page has grown to 307 followers (as of January 27th, 2021) with plenty of upcoming content. ​​​​​​​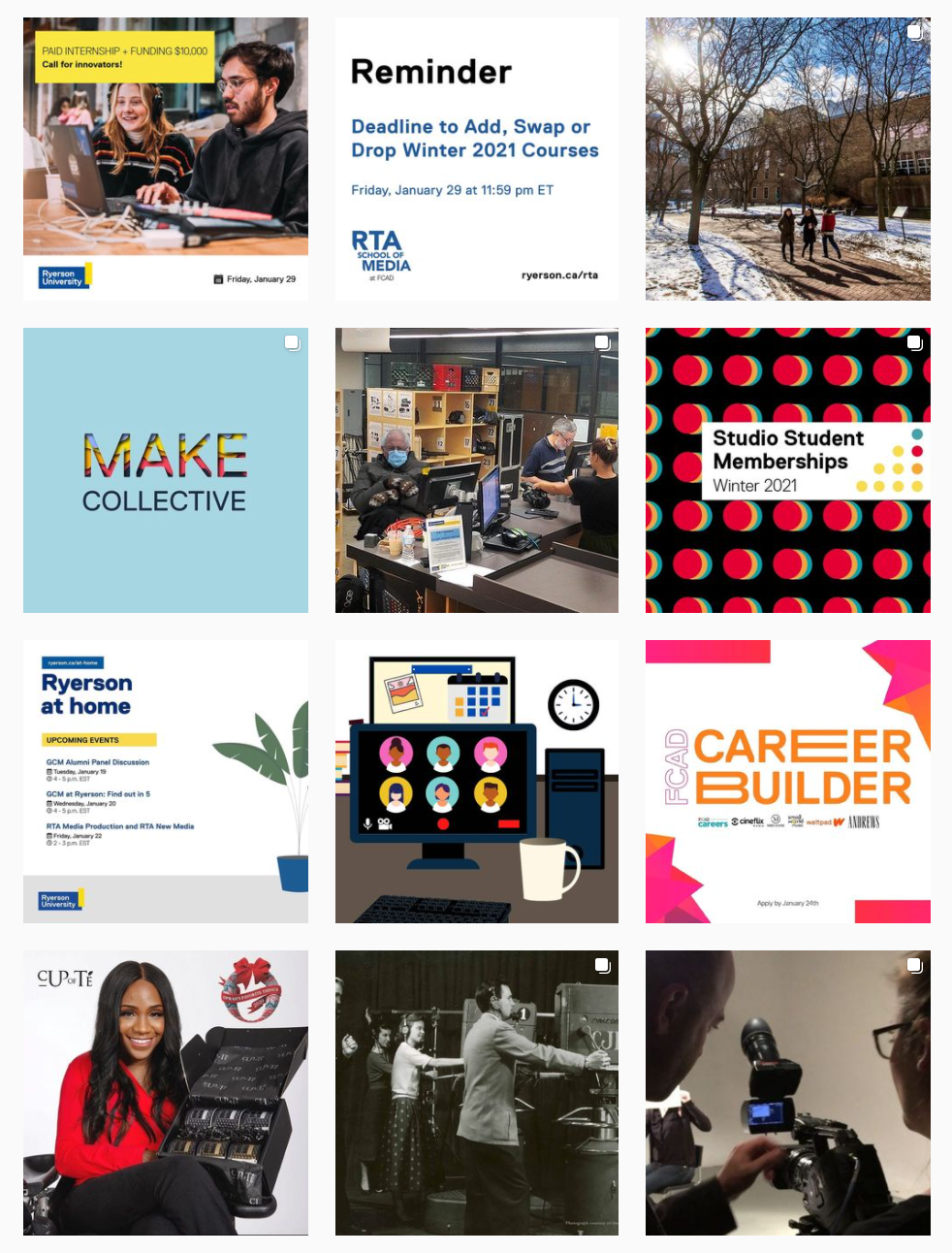 Ryerson University Alumni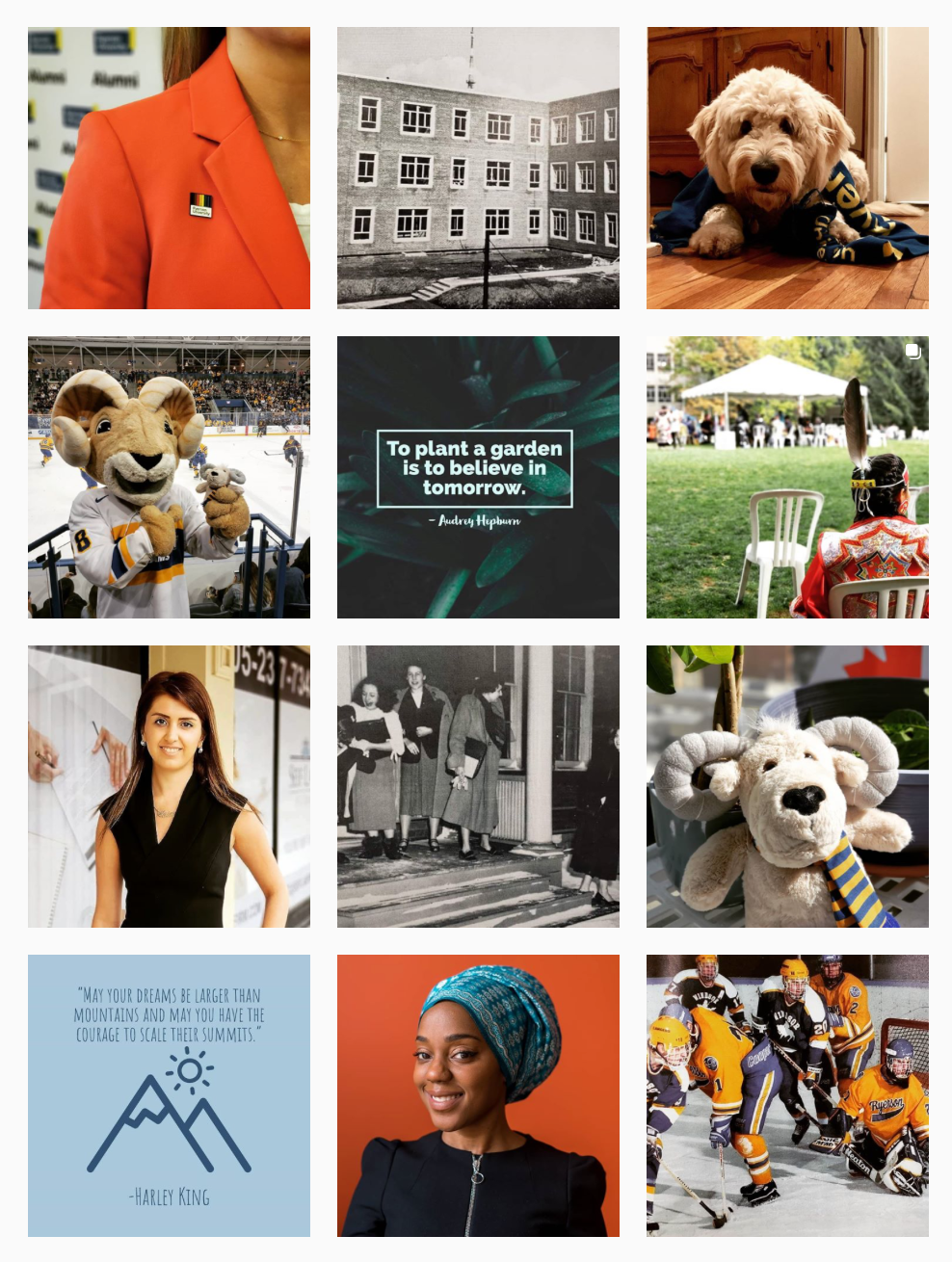 Date: May 2019 - April 2020
Position: Social Media Specialist
Position title changes: Partway through my employment with Ryerson Alumni, my position title was changed from Social Media Assistant to Social Media Specialist.

Position duties: During the final year of my undergraduate degree from Ryerson University, I was a career boost student with Alumni Relations. I Scheduled and curated content for Instagram, Twitter, Facebook, and LinkedIn, and at the end of each month I used Hootsuite and in-app analytics tools to track progress and set goals for the following months. To find content for our platforms, I researched articles and stories to share from the Ryerson news database, Ryerson related websites, and general research. I conducted interviews for various alumni feature projects, took photos around campus, created graphics, visited the archives department for #TBT material, and organized various google document files and spreadsheets for the marketing team.
Achievements: When I started with Alumni Relations back in May 2019, their instagram page only had 32 followers. With hard work and strategic thinking, the follower count hit a total of 690 when my contract ended. 
Date: January 2020 - May 2020
Position: Public Outreach Coordinator

Position duties: As leader of the outreach team, I created and ran our social media profiles, wrote creative copy, coordinated media promotions, photography, and organized interviews for the upcoming META exhibition of 4th-year thesis projects made by graduating students in the New Media program at Ryerson University.
Achievements: During my time as the public Outreach Coordinator, I created all social media platforms from scratch and we saw great results. The META 2020 Instagram page sits at 155 follows, the Facebook has 182 likes and follows, and the event page for our physical exhibition had 133 responses before we had to cancel the in person event due to COVID-19. Our META 2020 Online Preview gallery event through zoom had just under 70 visitors for the opening ceremonies.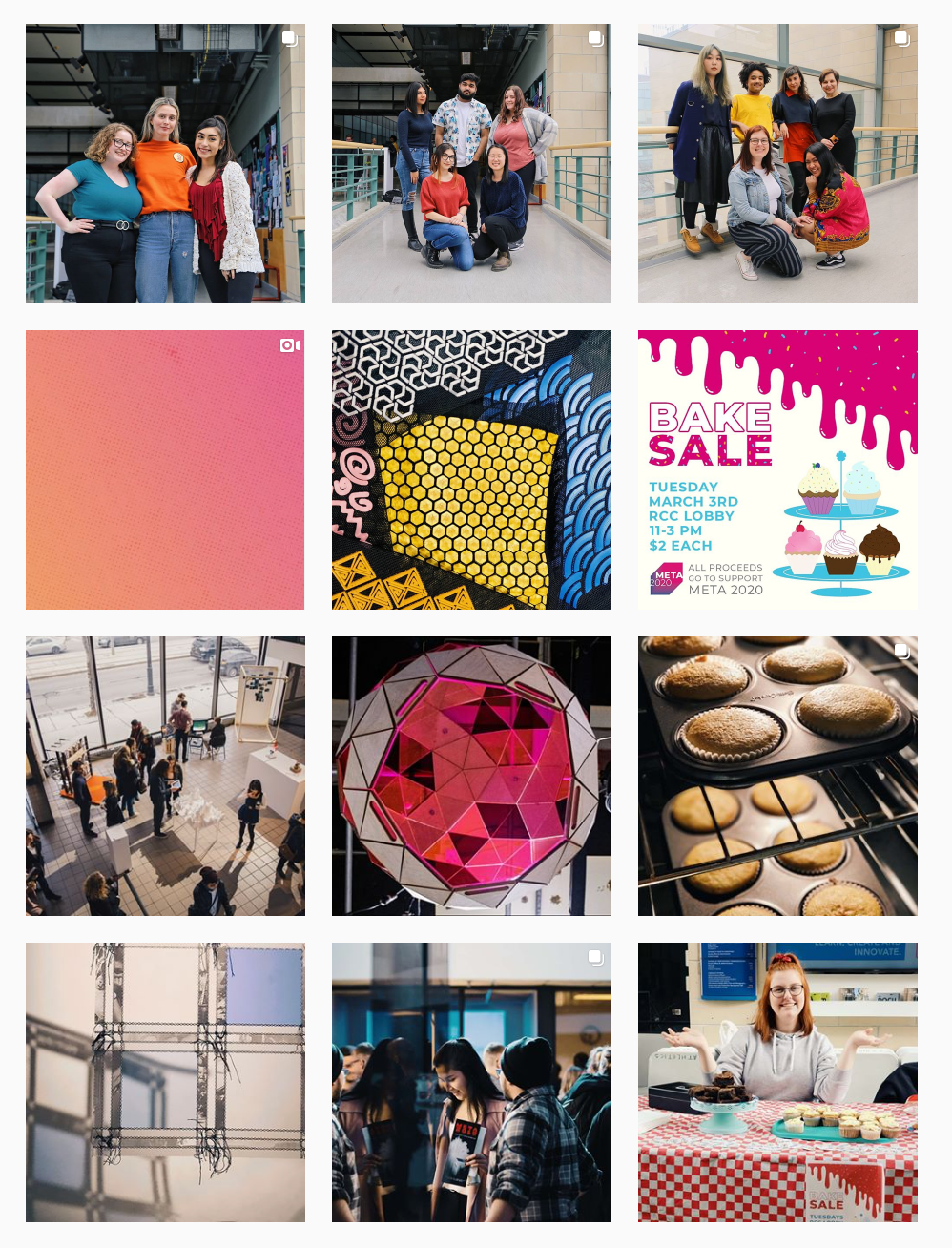 Ryerson University New Media Program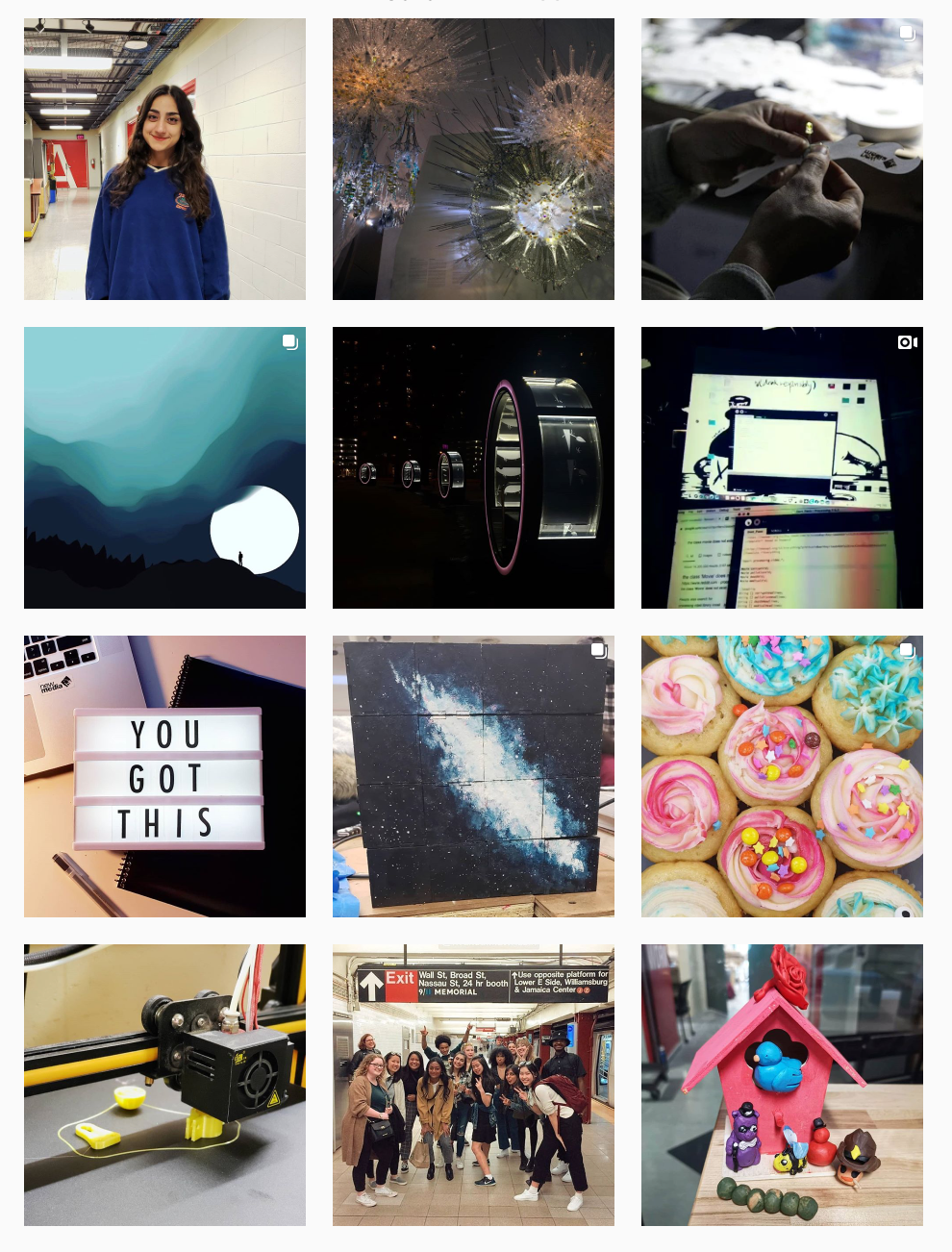 Date: October 2018 - May 2020
Position: Instagram Content Creator
Position title changes: Prior to September 2019 I was a social media team member, and was moved up to Instagram content creator, allowing me to take partial control over the Instagram account feed, rather than just uploading stories. 

Position duties: Creating instagram feed and story posts for my program's account. Once the post is approved, I share the content and respond to comments. I also respond to direct messages we receive and like and comment on other posts within Ryerson and other affiliated people/organizations with the program. Starting March 2020, during the start of COVID-19, we decided to hold on posting to the feed due to lack of content (considering we no longer have access to the school or supplies), and have been instead posting virtual events, random new media findings, informative content, etc. to our story. 
Achievements: The year prior to becoming the Instagram content creator, I was the VP of Marketing for my course union and made it one of my priorities to include New Media more in the whole RTA community. Under the school of RTA there are three programs and New Media being the smallest, I found there wasn't as much representation. Successfully I assisted in marketing events and fundraisers held by the New Media faculty and our community, to the rest of RTA during my position as VP of Marketing with our course union and after my tenure by reaching out to our course union more frequently about sharing our content. 
Course Union for RTA Students (CURTAS)
Date: August 2018 - May 2019
Position: VP of Marketing
Position title changes: August - November 2018 I was a Social Media Coordinator who assisted the VP of Marketing on various occasions. November 2018 the VP of Marketing stepped down from CURTAS and I stepped up to the plate to take over all VP of Marketing duties until my position contract ended in May of 2019. 

Position duties: Running the Instagram and Facebook accounts for CURTAS, creating graphic elements, creating marketing plans, event promotion, photo editing, sending daily updates to the twitter coordinator, scheduling meetings, being the liaison between the VPs and President with the rest of the marketing team, and making sure all deadlines are met.
Achievements: I made it one of my priorities to include New Media more in the whole RTA community. Under the school of RTA there are three programs and New Media being the smallest, I found there wasn't as much representation. Successfully I marketed events and fundraisers held by the New Media faculty and our community, to the rest of RTA during my position as VP of Marketing with our course union. 
When I took over as VP of Marketing, I was starting in the middle of a semester with two large events happening within the next few months of my starting. While the yearly gala ended up being cancelled, the TARA Awards for RTA students was my next priority. I worked alongside our graphic designers to mimic the graphics made by the TARA committee for the CURTAS after party, hired photographers, and posted continuously on our story. In the end we had a great turn out for the event.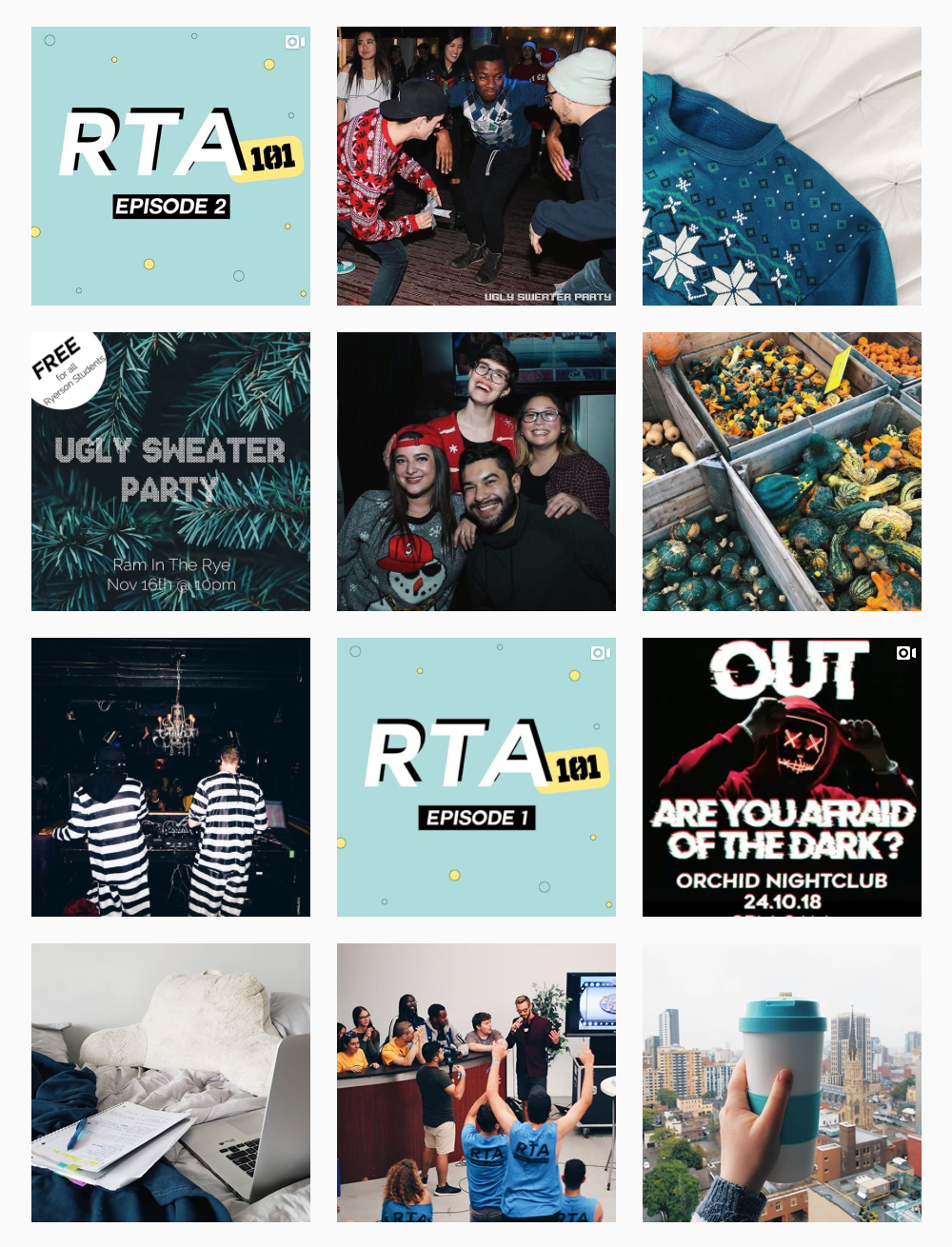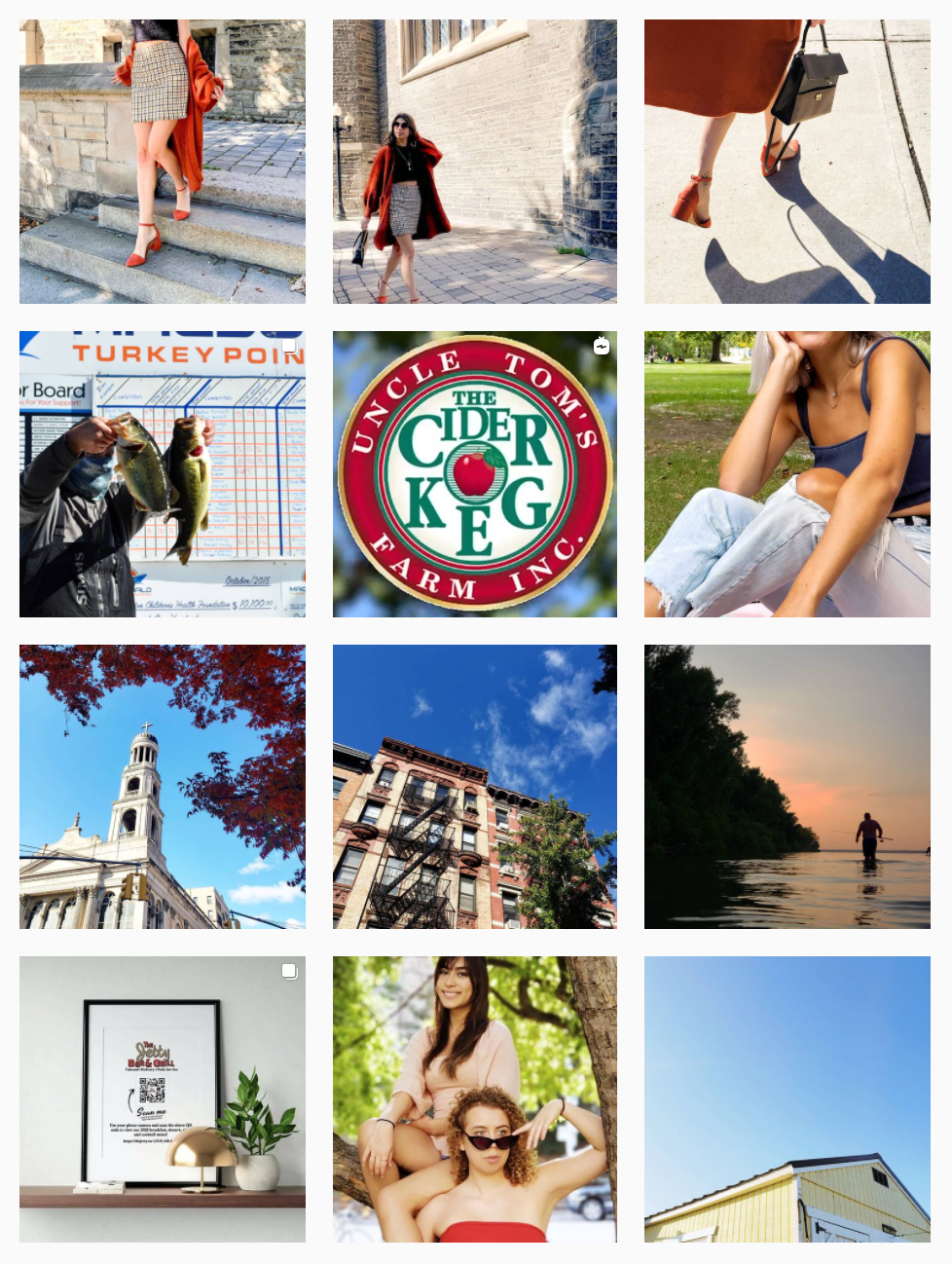 Date: September 2014 - Current day
Position: Freelancer

What I offer: Photography, videography, video editing, and QR menu design
Who I've worked with: 
Ryerson University - New Media SIM Night
Ryerson University - New Media META 2020
Ryerson University - Alumni Relations
MacDonald Turkey Point Marina
Simcoe Composite High School - Music Department
Odd Company (Band)
Cider Keg Wholesale
LinkedIn portrait sessions
JDK Designs (business coming soon)
Date: July 2020 - Current Day
Position: Social Media Manager - Founder

Position duties: I curate content, manage the website, and attract followers to showcase the beautiful scenery and small businesses that our little town has to offer.
I answer questions regarding our tourist attractions such as beach access, camping, food and beverage, and where to stay. I have worked with local business owners to promote their businesses and put together an end of summer giveaway.
Achievements:
One thing I began to notice as a former resident with family and other connections still in this small town, was the lack of advertising for tourism. Using my education in social media and my experience building websites, I took it upon myself to create a Turkey Point Tourism brand to advertise just how wonderful our small town is. Over the past few months the instagram following has grown to 500 followers, and has been reposted by accounts such as
BlogNorfolk
and
Ontario's South West 
. I have also received lovely messages and photo tags from people who discovered our town by my work on the instagram page. 
Next summer I have big plans in the works, so look out!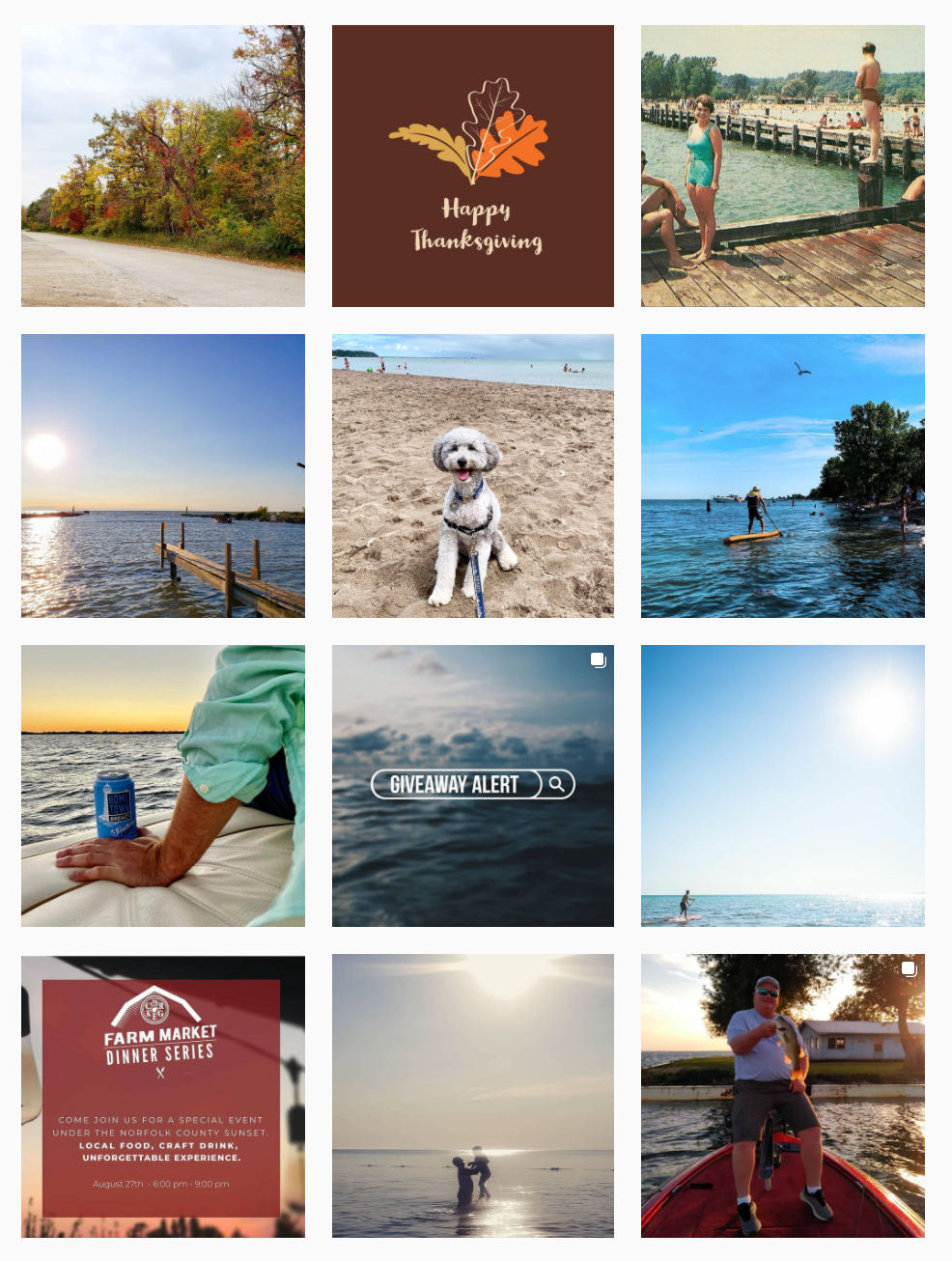 Other small side projects (inactive accounts):